In this edition, we are delighted to feature an exclusive interview with Nils Lind, the Founder and CEO of Assertive Yield. Nils shares his recent in-field visits and conversations with over 100 publishers across six countries and three continents, providing invaluable firsthand perspectives on the global advertising landscape.
So, what can you expect to find in this report? Let's dive in: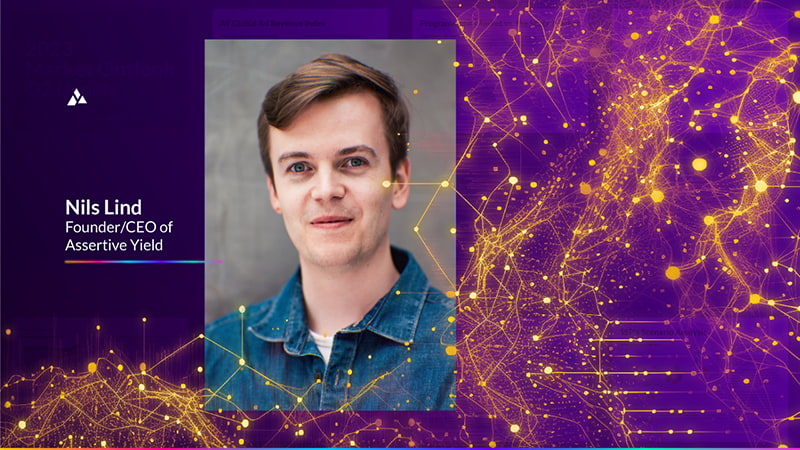 Q2'23 Market Outlook with the Founder/CEO of Assertive Yield - Nils Lind
When Nils embarked on an in-field trip to multiple countries, meeting over 100 publishers and diving deep into local markets, we discovered the shocking truth: economic changes, tighter budgets, and reduced ad spend are wreaking havoc on the industry, especially on publishers!
However, Nils also discovered the game-changing cost-reduction techniques that every publisher dreams of and the secret to the 25% uplifts that many other pubs are currently enjoying even with the ad spend slowdown. 
How are they unifying expensive adtech tools? Streaming advertising processes across all departments? Experiencing jaw-dropping results and more? Well you can learn all about that and more right here

Performance Benchmarks with AY Global Programmatic Ad Revenue Index
The global ad revenue index faced a roller-coaster ride in Q2, hitting lows similar to the pandemic-stricken 2020, but it managed to bounce back significantly by the end. Surging revenue for publishers revealed signs of relief, but the uncertainty ahead raises red flags.
Surprisingly the Q2 growth rate against Q1 hints at a potentially brighter Q3. However, what factors led to this rapid increase in revenue after a challenging start in Q1? How does this growth rate compare to the previous years, and what could it mean for the future of ad revenue? 
Click here to learn more and stay ahead of the ever-changing market trends!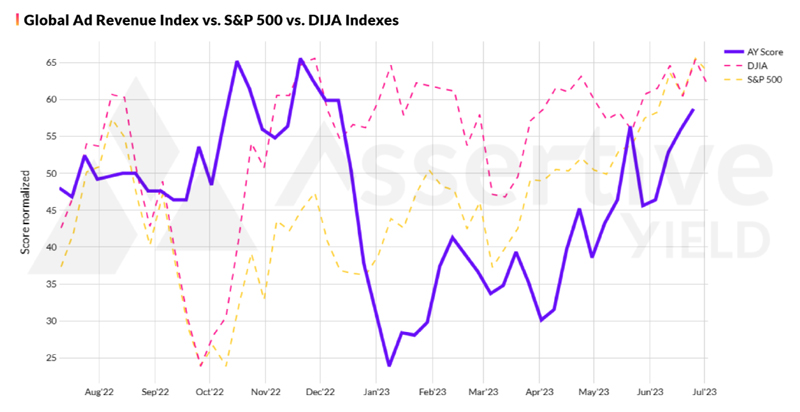 How did the Stock Market Shake-Up Rock the Ad Market in Q2? 
The collapse of several banks triggered a chain reaction in the stock market, sending shockwaves through the ad industry. Programmatic ad spending took a hit, and the beginning of Q2 was rougher than ever before.
On the same note, the FED's hint at more interest rate increases raises questions about the future stability of the economy. Will this lead to more surprises in the ad market? What's the correlation between the Global Ad Revenue Index and key stock market indexes, S&P 500 and DJIA? and how did the US interest rates decision in June spark a stock market growth and influence the ad market's Q2 finale?
Click here to explore the seasonal patterns and potential slow summer months before the final ramp-up.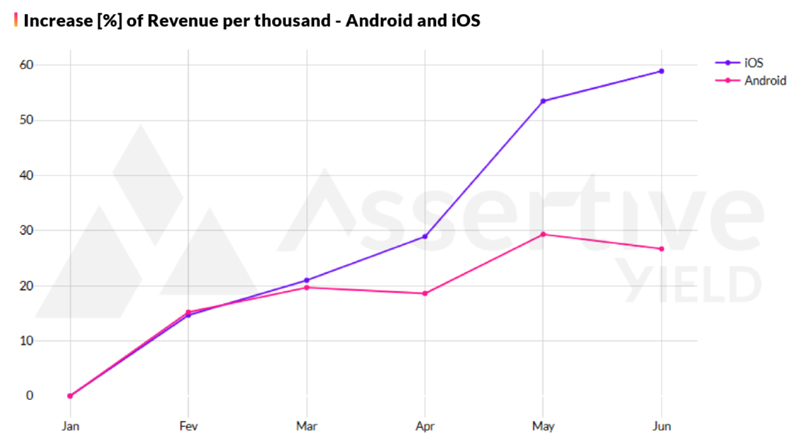 Optimize Ad Spend by Comparing CPMs for iOS and Android in the US
Apple's Intelligent Tracking Prevention (ITP) and Google's Chrome cookie blocking have changed the game for ad spending. With the gap between Android and iOS CPMs tightening, the competition is heating up!
While Android devices boast higher CPMs using Chrome, iOS is catching up with a staggering 60% increase. What does this data reveal? Is this a sign of a shift in the advertising landscape?
Dig into the data firsthand and explore how this monumental change could reshape CPMs in the ad tech industry! Learn more
Safeguard Your Ad Stack by Navigating the Confirmed Click Penalty
Google's confirmed click penalty has been a nightmare for publishers, causing significant revenue loss and mounting frustrations.
Our data-rich investigation reveals the shocking impact of the click penalty on multiple domains. Spots the telltale signs of the penalty, from ad unit to domain level, and its cascading effects on ad revenue from Google AdX and other partners.
How can publishers regain their CPMs after the penalty hits, leading to a grueling battle for survival? Are you at risk and how can you protect your ad stack from disaster? Find out now!
A Panoramic View of Advertising Landscape Across Different Countries
Jaw-dropping data on normalized CPM numbers from different countries in this game-changing industry insights is empowering publishers to make strategic decisions like never before.
US and Canada lead the charge with skyrocketing growth, while Germany and France follow closely behind after a rough start. But what's the story with the United Kingdom? 
Find out why their programmatic display numbers show a mere 15% growth in June compared to January and dive deeper into the global CPM landscape.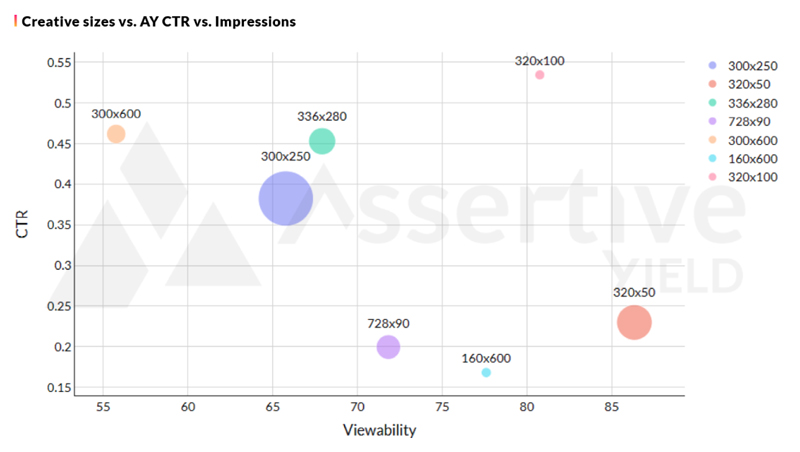 Optimizing Ad Placements: The Relationship Between Viewability and Relative CTR
We conducted an in-depth analysis across billions of impressions to reveal the best-performing ad units for CTR and viewability.
The analysis revealed that while the most popular creative size is 300x250, with its impressive CTR and viewability, there is a hidden potential for 336x280 for mobile placements, and why upgrading could be a game-changer.
And that's not all—it also unravels the mysteries of 320x50 and 320x100, two ad units with contrasting CTR and viewability, and how they can shape your success. With additional insider insights on the lesser-known 160x600, and its surprising potential for viewability.
With that being said, are you ready to supercharge your ad revenue? Click here to dive into the data-driven world of ad units and unlock the path to higher CTRs and better viewability! 
SSPs' Scenario Analysis: Navigating Partnerships with Confidence
The SSP landscape is undergoing wild transformations with major players closing doors and new ones rising to the occasion. In this report, we unveil the top-performing SSPs, including Minute Media, Vidazoo, Adagio, and Rise, who are making waves in the market.
But what happened to the Tier 1 SSPs? Appnexus (aka Xandr), Triplelift, Magnite, IndexExchange, and Pubmatic who continue to dominate the Prebid landscape? Are they all equal? Find out why Appnexus stands out with its strong performance so far. And how Kueez, the new Israeli-based SSP is making strides despite being a recent player in the field.
Dive into the data and explore the normalized win rate and relative revenue of each SSP, giving you a glimpse of their impact on the ad stack. 
Dive Deeper with AY Industry Insights: Tailoring Strategies for Success
AY Industry Insights monitors a staggering volume of over 200Bn impressions each month from publishers and SSPs, including a wide spectrum of more than 250 bidders, and more than 150 trillion data points. 
With analysis of this vast amount of data, the AY Global Ad Revenue Index offers hidden gems and actionable revenue growth hacks.
By comparing your performance with industry practices, you can get valuable insights to maximize your revenue and improve your monetization strategy with the optimal ad stack, by country, device, and more. Learn more about how to Optimize Your Monetization Strategy with AY Industry Insight
In conclusion, Q2'23 has presented publishers with unique challenges and opportunities in the digital advertising landscape. By delving into these insights, you can equip yourself with the knowledge and understanding needed to make well-informed decisions for the future success of your advertising endeavors. Download the report today!