Boosting Monetization: Exploring Top A/B Testing Solutions
Discover six powerful alternative A/B testing solutions for publishers to optimize ad monetization. Learn how to select the right choice for your website's success. Enhance Your Website's Revenue Streams with Effective A/B Testing Options.
Back in 2012, we saw the introduction of Google Website Optimizer, and now its successor is set to shut down on September 30, 2023 - just several months after Universal Analytics is to close as well. 
The truth is that Google Optimize set the pace for A/B testing in the digital world and opened it up for marketing professionals from a wide spectrum to find their growth hacking strategies: e-commerce sites used A/B tests to increase conversions; business websites used A/B tests to generate more leads, and product people to increase engagement with their products.
Challenges Faced with the Shutdown of Google Optimize
Of course, many publishers investing in their websites were not left out of the trend, using the product to test UX improvements, website optimizations, and, most importantly - monetization uplifts. However, it did have some limitations - although a non-dev person can use the tool to perform some A/B testing experiments, the fact that the integration provided only enabled Google Analytics data to be connected to it was a bummer.
Meaning that if you wanted to test how the change affected ads revenue, you would also need to add key-value pairs in GAM and carefully combine the data each time that you needed to look at it - with Universal Analytics, sometimes taking hours to update; and, with Google Ad Manager needing at least a couple of hours to show the first data from the tests, that usually means you are pushing tests into the wild and can do nothing but wait for the information to arrive to understand - whether things are stable, or are you hurting revenue. 
A/B Testing Alternatives for Publishers
In these times of a thin economy, tighter budgets, and adspend slowdown for publishers, it is paramount that we address how publishers can improve their website monetization through A/B testing. The truth is that there is nothing broken with Google Optimize as an A/B tool and making it part of GA4 may be more related to corporate trying to do a little push to the successor of Universal Analytics.
On the other hand - Google Optimize is free (although it has a paid version as well) and widely used by many marketing professionals and publishers out there. It does not provide the level of visual editors the paid products have, nor does it empowers AI at its core, and it doesn't have a library of elements to test on your page, but it simply works. At least for the majority of things. 
Of course, testing some more complicated tasks like a new prebid version may be a challenge for it, but what are the alternative A/B testing tools that integrate with Google Ad Manager?

Well, since we don't know yet what's happening with GA4 A/B testing capabilities, it's probably a good time for you to check on what is out there besides Google Optimize, we've gathered several examples.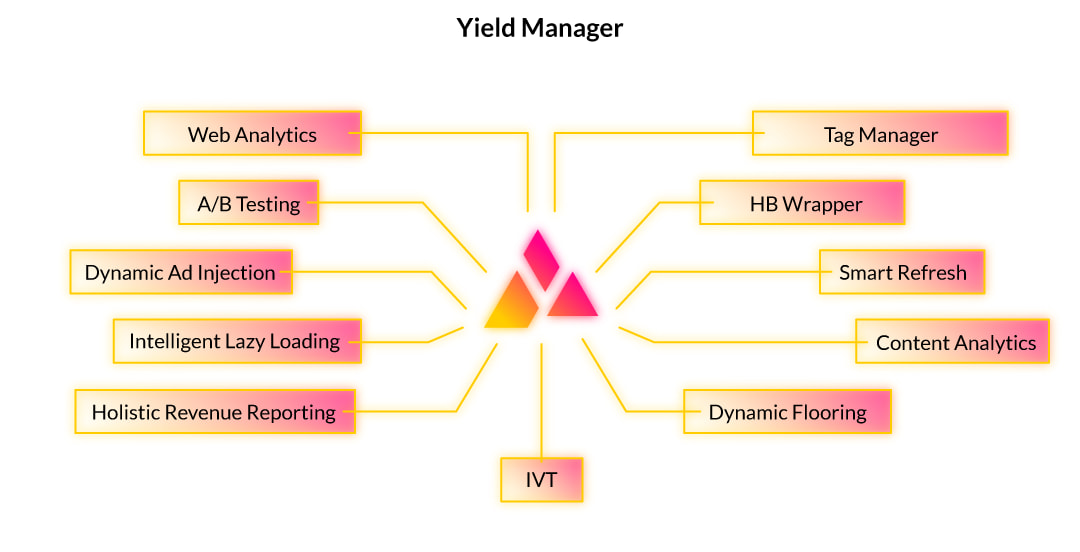 Yield Manager: A/B/n Testing Solution full autonomy with real-time results
You've guessed it right - we have an alternative called AY Yield Manager, a powerful lightweight ad stack wrapper, working with your own demand, that provides easy A/B testing, UX control of the ad units, pixels, event tracking, and basically anything you can inject through javascript, sophisticated solutions like Bid Pooling, Bid Caching, Smart Refresh, and several others as well. All of this is combined with the granular revenue data available through AY Yield Analytics. 
However, it's understandable if you're curious about what are the advantages of using Yield Manager for A/B testing and ad revenue optimization.
To put things more simply - you can easily change anything on your ad stack, preview it to QA it, and then launch it on a part of the traffic that you have and immediately start seeing the differences in Revenue per Session that it might achieve against your control group. Alongside Session RPM you can also track impressions, revenue, Revenue per 1000 ad requests, misclicks, Core Web Vitals, IVT, Pageviews per Session, fill rate, or a total of more than 300 dimensions and metrics, and the unlimited combinations between them. 
Did we mention that the data starts flowing less than a minute after the test is live? This means that you can easily push the test to a small segment of the traffic, make sure there are no major downsides to it, and then increase the user group. And the revenue data from the site includes Google AdX, Open Bidding, Prebid, and Amazon A9, but also - outstream or instream video player ads, content recommendation widgets, and even attributed revenue to paywall subscribers. 
As an example - it's easy to test a different prebid version before roll-out, to allocate the amount of revenue brought in by a new SSP bidder (or the one lost from removing one). But you can utilize the AY Yield Manager tool to do UX changes, compare different video players, and even optimize the loading times of different scripts running through AY Yield Manager, and see the results. 
How it works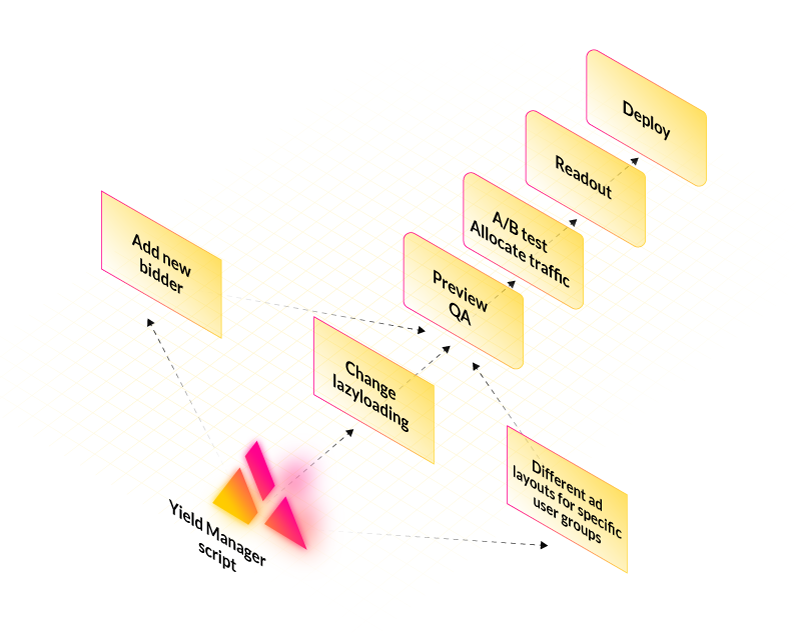 What you can test: anything related to the ad stack, HTML and javascript injected scripts, and new elements on the page.
Readouts: You can go through the powerful Yield Intelligence and see a good comparison between the test segments on multiple data points. Easy to share interactive dashboards. 
Built for: Data-driven medium or large-scale publisher organizations, and publishing networks, using their own demand through a reliable header-bidding wrapper and tag management solution. 
Integrations: Google Ad Manager(GAM), Prebid client data, Outbrain, Taboola, Native, most common outstream video players, Facebook, and Google ads spend data. 
Pricing: Fixed cost per 1000 ad impressions. Pay as you scale. Contact us for a free proof of concept and pricing details. 

Google Analytics 4: A Mixed Bag for A/B Testing
At the beginning of this year each Optimize user received an email from Google, at the bottom of this email, Google stated: "We remain excited for the vision for A/B testing within Google Analytics 4". As the words suggest, Google Analytics 4 comes with a ton of A/B testing features such as App Stability Overview, Audience, Cardinality, Channel, Cohorts, Collections, Engagements, and more. You can check out the full list here. Yet many publishers can't help but wonder if Google Analytics 4 is a suitable replacement for Google Optimize.
So far things aren't looking as good as we wish for the successor of Universal Analytics. As many GA4 users recall the integration issues faced by trying to establish a connection between their tracking and Google's Looker Studio (ex Data Studio). And things just get more complicated, if you are focused on the European market, with recent authorities ruling causing even more concerns. And above all this - in case you've already tried GA4, you won't have to check the responses under this tweet from John Mueller to verify how small its fan club is. 
Despite these pushbacks, Google however alerts its users that as of July 1, 2023, standard Universal Analytics properties will stop processing data. While they'll be able to see their Universal Analytics reports for a period of time after July 1, 2023, new data will only flow into Google Analytics 4 properties. 
What you can test: App Stability Overview, Audience, Cardinality, Channel, Cohorts, Collections, Engagements, and more. Check out the full list here.
Readouts: Most probably - dashboards in Analytics and Looker Studio report, but in case you need monetization data - you have to pull that additionally from Google Ad Manager, and if you have other revenue sources on the website, you need to collect, normalize and clean all that data and add it to the mix. 
Built for: Every type of website out there.
Pricing: GA4 (Standard) is free but GA4 360 (premium) is paid. Check out the billing rate for GA4 360

Optimizely: A Digital Experience Platform for Testing
Optimizely advertises itself as a Digital Experience Platform, providing a wide range of products, including A/B testing, CMS, content marketing platforms, and e-commerce. 
It provides a visual editor, along with a deployment system for developers. Their focus is more on e-commerce and the business side, but it can also be suitable for Tier 1 publishers, looking to experiment with their website look and feel. Similar to AY Yield Manager, they also collect first-party data. 
What are the features of Optimizely's Digital Experience Platform?
For developers, Optimizely also offers an academy and a Slack community to offboard support. It's one of the premium solutions out there on the market, but it might not be worth it for small and medium publishers, generating less revenue than a multinational e-commerce company. 
What you can test: Javascript injected code on the page, WYSIWYG ("what you see is what you get") editor, along with Apps, chatbots, APIs, etc. 
Readouts:  Sharing or exporting results data supported.
Built for: Large companies, e-commerce.
Integrations:  A long list of different services, including analytics-based ones, payments, email marketing, servers, ads, etc. No Google Ad Manager integration though. 
Pricing: Non-disclosed. A competitor cites a starting point of $36,000/year.

VWO: A/B Testing in Real-time
VWO is one of the more popular A/B testing platforms out there. They were also smart enough to offer a free plan for users for up to 50k tested visitors a month and available for $199 a month for users for up to 100K monthly tested visitors, just when Google announced the sunset of their competitor. The tool seems to be more focused on business users, with conversions, CTR and leads as some of their main points for optimization. 
How does VWO provide real-time results for A/B testing?
As a main advantage, we would point out the ability to make content or CSS changes directly at the user interface, along with more complicated server-side experiments. 
It also addresses the pain of running into conflicts when your different tests get to show on the same user, one of the harder-to-overcome issues of Google Optimize. 
They do have a separate landing page aimed at publishers, but the main focus of it would be - subscriptions, user engagements, and basic banner placement functionality. 
What you can test:  WYSIWYG, content changes, styling and UX, paywall messages, and banner placements. 
Readouts:  Inside the product for the free version, CSV downloads, and sharing reports - at premium versions. 
Built for: Businesses, e-commerce, some features for paywall and subscription publishers. More suitable for smaller businesses.
Integrations:  Google Analytics, Marketo, Braze, Salesforce, Segment, and others. No Google Ad Manager integration though. 
Pricing: Free for up to 50k tested visitors a month, $199 for up to 100k monthly tested visitors, and further premium tiers, check the full price. 

A/B Tasty: Omnichannel Experiments for Medium to Large Businesses
It's no news that when it comes to A/B Tasty, many publishers often wonder "Can A/B Tasty be used for omnichannel experiments?" To answer that, A/B Tasty is an Omnichannel tool for running experiments, mainly focused on medium to high-tier businesses on e-commerce, and B2C websites, or products. Similar to other A/B testing powerhouses, it comes with a WYSIWYG editor(what you see is what you get), a code editor, split URL testing, etc. 
The tool provides real-time results, although, like the rest of the list (except AY Yield Manager)- A/B Tasty does not include Google Ad Manager revenue in the mix. It does include engagement, transactional and custom goals, with the ability to have a segment builder and utilize third-party user segments. It provides both: server and client-side testing. 
The tool may be an option for medium-sized and larger-scale publishers looking to expand their revenue channels outside of display and video advertising. 
What you can test: WYSIWYG editor, code editor, split URL testing, etc. 
Readouts: Dashboard and PDF SUPPORTED. 
Built for: Omnichannel experiments, segmenting users, and medium-sized businesses in the e-commerce, B2C, and product segments. 
Integrations: Different integration in web and product analytics, digital marketing, etc.  Google Ad Manager integration is not available.
Pricing: Undisclosed, however, you can request a pricing list on their official website. However, a website called comparecamp.com mentions a starting point of $1000 per month, with no free trials available. 

Adobe Target: Personalization and A/B Testing with Integration
Adobe Target is a part of Adobe Experience Cloud that allows for website personalization and A/B and multivariate testing. Similar to the rest of the tools on this list, it provides a good visual editor where you can swap certain elements on the page, change the text on buttons or other elements, or use the more complex tools like code editor. It can also be combined with one of the powerful alternatives to Google Analytics - Adobe Analytics.  Let's take a look at how Adobe Target integrates with Adobe Experience Cloud and Google Ad Manager.
Unlike the rest of the tools, except for Yield Manager, Adobe Target also comes with a Google Ad Manager integration, which makes it more powerful when it comes to addressing optimizations that may impact website monetization. But it makes a lot more sense to use it along the whole suite, which is not so useful for publishers. 
What you can test:  WYSIWYG, machine learning optimizations, multivariate tests, etc.
Readouts:  In-product, CSV files, integration with Adobe Analytics 
Build for:  Businesses; more powerful when you utilize it as a part of the Adobe Experience Cloud.
Integrations: Notably - with the addition of some of the other tools from Adobe - Google Ad Manager. 
Pricing: Non-disclosed but you can request a price list on their official website.
Choosing the Right A/B Testing Solution for Publishers
It's a tough decision when you are a publisher and want to test out things. While most of the tools on the market are quite powerful, they are mostly built with a focus on improving marketing funnels, generating more e-commerce profits, or increasing on-page engagement. If you are in the position to do A/B testing on a large-scale publishing website, you certainly will need additional resources, such as time and data analysts, to gather all the data from the A/B testing tool of choice, like Google Analytics, GAM's key values, and you are most likely to disregard other revenue sources, such as video players and native widgets on the page. 
Of course, this is how most of the Google Optimize tests now work - you create tests, pull the data from Google Analytics, pull the data from GAM (automatically with GAM 360 and manually without), add them to Google Data Studio, and then wait to get at least a full day of data to know what has happened, as Google is not particularly good with key-value targeting and hourly reports and even GA 360 can have a delay of several hours. So A/B testing is in the dark. 
Unlike other competitors in the market, Yield Manager by Assertive Yield is specifically built for premium publishers and focuses on helping them to hack growth and maximize their ad revenue through advanced yield management and monetization strategies. 
With AY Yield Manager, you get to have not only a real-time A/B testing tool but can also get one of the most optimized ad stack techs on the market, continuously beating up both competitors and in-house stacks developed for the particular website. 
Of course, if you are not ready to play a new game, you can choose your own A/B testing technique sets, whether it will be utilizing Cloudflare Workers or Google Optimize, (while it's still available) or going for the more complex and higher-in-value tools on the market, and on top of that, utilize the unbeatable reporting capabilities of Yield Intelligence, which includes custom dimensions to use the tool for its readout capabilities, as well as real-time data from multiple sources and incredible granularity.