Explore AY Programmatic Industry Insights for Publishers
AY Industry Insights monitors a staggering volume of over 200Bn impressions each month from publishers and SSPs, including a wide spectrum of more than 250 bidders, and more than 150 trillion data points. 
With analysis of this vast amount of data, the AY Global Ad Revenue Index offers hidden gems for programmatic benchmark and actionable revenue growth hacks.
By comparing your performance with industry practices, you can get valuable insights to maximize your revenue and improve your monetization strategy with the optimal ad stack, by analyzing granular data by country, device, and more.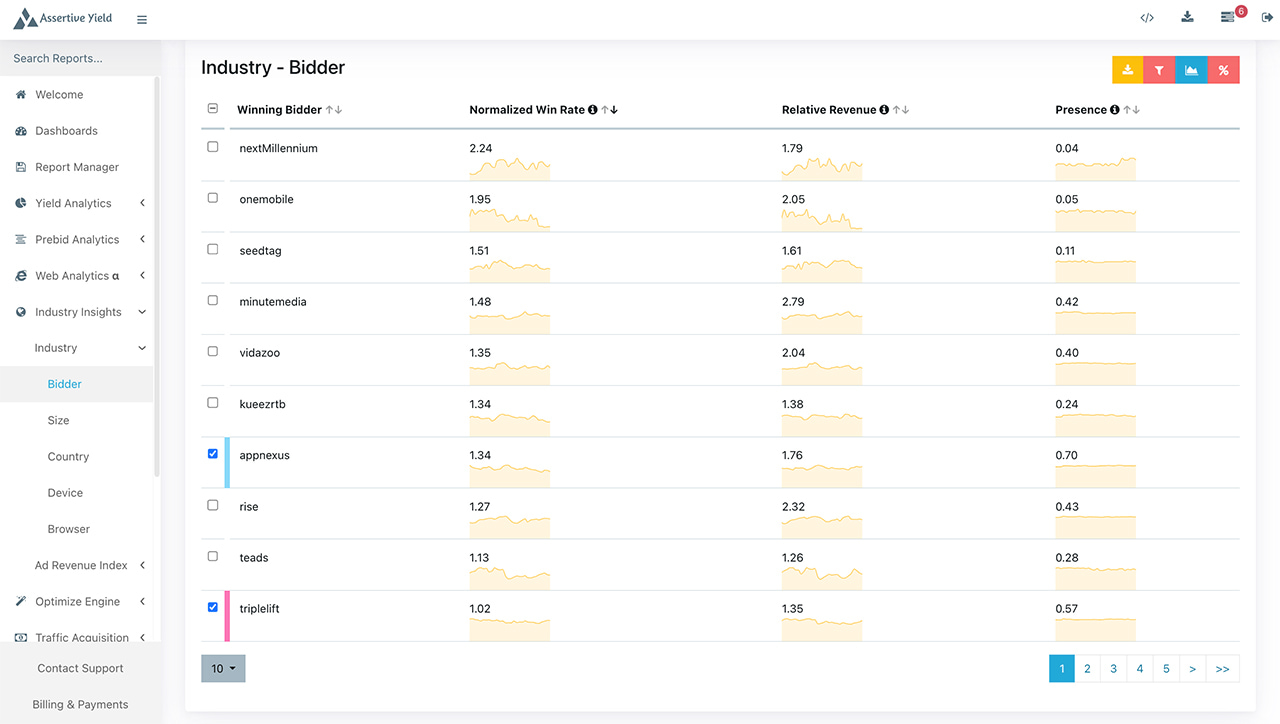 The AY Industry Insights allows you to monitor and compare bidder activity by Winning Bidder (SSPs and Ad networks), Normalized Win Rate (win rate normalized by the amount of competition it had), Relative Revenue (revenue from a bidder, relative to the total prebid revenue), and Presence (average number of sites working with a category). 
It ensures your programmatic revenue and CPMs are growing at the same pace as the market with super-advanced filters to include or exclude a specific media type, ad size, browser, device, country, or winning bidder.
Easy-to-use UI available to you with highly customizable dashboards; with additional filters to choose charts, show in percentages or numerical values with the option to export.
Furthermore, you can analyze data from various time zones, view detailed Bar, Line, and/or Overall graphs. This provides a comprehensive global market overview to identify top-performing advertisers generating more sales leads or underperforming ones to optimize.

AY Global Ad Revenue Index
Use the Ad revenue index data to find new trends on display or video, per GEO and OS. Strategically explore your relationships with programmatic buyers and brands. You can customize your dashboard with filters such as Media type, size, device, country, browser, and referrer type to reveal more data.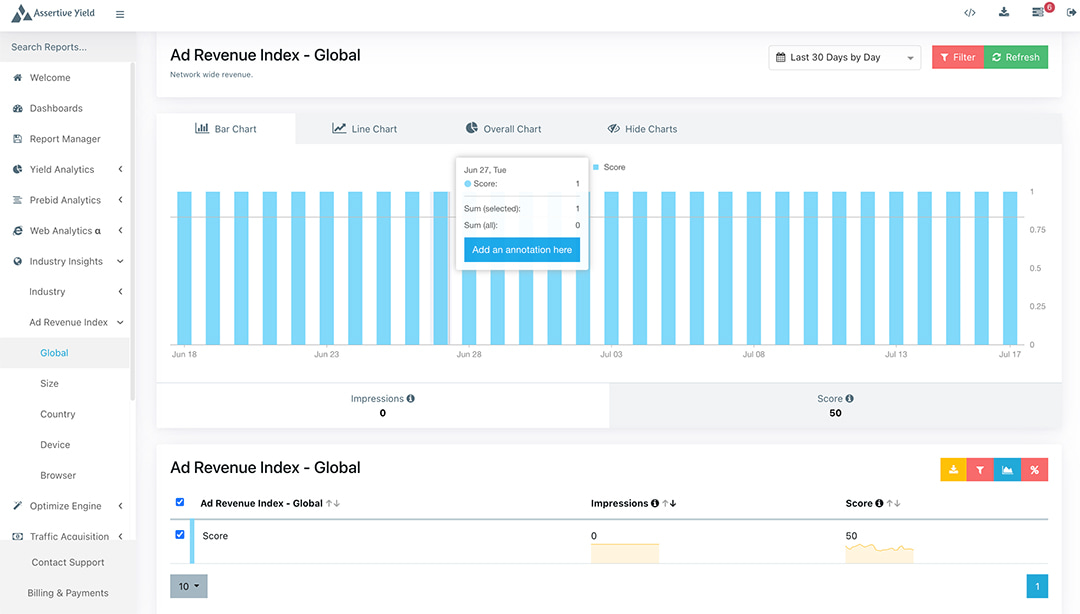 How to Leverage AY Industry Insights 
Effortlessly analyze on-screen or export a comprehensive report with all players as well as aggregate additional data in order to:
Gain bidder intelligence to compare your adstack performance
Discover opportunities across multiple time zones and platforms
Concentrate your time & efforts on better revenue generation
Be data-driven, be competitive, and find new ways to monetize more

To explore more, download the AY Industry Insight Q2 '23 Report: Yield Management In Programmatic today!