Despite economic challenges and a drop in advertiser spend, this article explores what lies ahead for Q4 based on Assertive Yield's Q3 Industry Insights Report. The report is the result of in-depth data analysis across thousands of domains, encompassing over 200 billion monthly impressions from publishers and SSPs. This vast dataset comprises more than 250 bidders and a staggering 150 trillion data points.
For a more detailed view of the Q3 results, we invite you to watch the interview with Nils Lind, the Founder and CEO of Assertive Yield, below.
Now, let's explore ever-changing programmatic insights.
Top Q3 Programmatic Insights
Changes in Publisher-SSP dynamics
The dynamic between publishers and SSPs has seen a stalemate, with SSPs questioning the reluctance of publishers to reduce waste. Publishers have historically lacked incentives to do so and often sent a high volume of requests. However, a shift is underway. and the importance of traffic shaping on the publisher's side, focusing on traffic/request quality, has become a critical factor.
SSP Evolution
SSPs have undergone significant evolution in Q3. Many now offer enhanced targeting capabilities, improved yield optimization, and advanced tools to help publishers manage their ad inventory effectively. For example, GumGum, a leading SSP provider, has reported a 30% reduction in digital waste and optimized traffic in Q3, thanks to their advanced traffic shaping features.
The SSP AY Ad Revenue Index for Q3 suggests a promising market with remarkable growth and innovation in the SSP landscape.
In the Q3 Industry Insights report, you can find more detailed information on the top SSPs' performance and their metrics.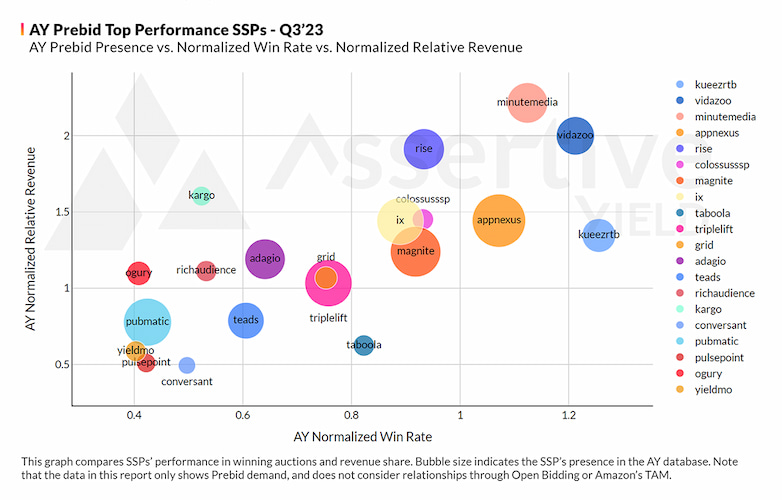 Third-party cookies phase-out
The advertising industry faces a significant shift towards privacy-first advertising. Major web browsers, including Google Chrome, are gradually phasing out third-party cookies, expected to affect over 90% of the web's ad inventory. In an effort to ensure user privacy, Google is testing a no-cookie approach on approximately 1% of Chrome traffic, set to begin in Q1 2024.
According to Nils Lind, AY founder, "We can yet only speculate the impact the third-party cookies phase out  will actually have on the advertising spend within this particular part of the market, as well as the revenue we see on the publishing side from it."
Contrasting RPM rates on iOS and Android
The  AY report also delved into an important trend that reflects the phasing out of cookies: the contrasting growth rates of RPM  on iOS and Android platforms that stem  from the imminent shift in online tracking methods.
In the US, as of September, Android RPMs, tracked by AY, are still nearly double the RPMs observed on iOS. However, iOS might  narrow that gap with other solutions, such as user IDs.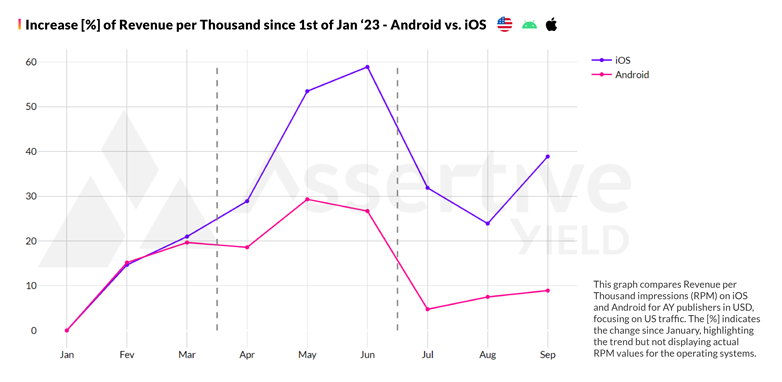 ID solutions and user profiling for programmatic
Publishers and advertisers are actively seeking effective solutions and workflows for their businesses. Several third-party solutions, including Alternative IDs, Seller-Defined Audiences, and Email-hashing, exist, with ongoing testing. Surprisingly, only 24% of surveyed publishers currently have a post-cookie solution in place, leading to the belief that Google may further delay third-party cookie deprecation.
Some of these ID solutions have displayed promising results, with potential CPM increases of up to 40% on iOS devices. However, the difficulty lies in the fact that these identity solutions are often based on publisher-provided identifiers, such as email addresses or phone numbers.  Additionally, many of these solutions are not currently allowed for use within the European market due to GDPR regulations.
Request CPM rises as an important KPI
Some SSPs are losing DSPs and shifting towards Request CPM Key Performance Indicators (KPIs). Prominent DSPs like DV 360 are now requesting SSPs to send less traffic and implement traffic shaping to prequalify traffic. On the SSP side, the challenge is to enhance revenue per request received.
Publisher's focus on quality
From the publisher's perspective, the emphasis lies in achieving long-term performance by maintaining 'clean' inventory sent to partners, ensuring that they are not negatively impacted by biases, influences, or reductions imposed by partners.
Rise of wrappers solutions
Q3 has also witnessed the ascent of wrappers, a technology aimed at optimizing costs and revenue, offering players a means to enhance their profit margins. These solutions, such as Assertive Yield, offer a comprehensive toolset for publishers and SSPs, including traffic shaping, header bidding optimization, A/B/n testing, and more.
Rise of resellers SSPs
Q3 has witnessed a notable increase in reseller SSPs, a trend that challenges the conventional wisdom in the industry. Resellers are actively investing in bid enrichment, enhancing the information available in the bid stream. Some major SSPs are now more frequently buying inventory through resellers rather than directly from publishers.
In some cases, according to Assertive Yield's report, revenue generated through resellers surpasses that from well-established, direct DSP relationships.
Ready to boost your monetization strategy in Q4 with these programmatic insights?
As we transition into Q4, publishers should prioritize diversifying their revenue streams, particularly in light of impending changes related to third-party cookies. Embracing contextual advertising, optimizing programmatic strategies, and continued investment in high-quality, engaging content will be key to success.
Furthermore, publishers should remain agile and adapt to the ever-evolving adtech landscape, including emerging advertising formats and evolving SSP technologies.
Download the AY Q3 Industry Insights  report for more detailed insights. By immersing yourself in these findings, you can equip yourself with the knowledge needed to make informed decisions for the future success of your revenue strategy. Download the report today and stay updated through our newsletter and YouTube channel.